RTO Form 4: Application for Licence to Drive a Motor Vehicle
In India, according to the Motor Vehicles Act of 1988, it is compulsory, to hold a valid Driving Licence for riding two-wheelers and four-wheelers. However, you cannot apply for a permanent driving licence directly. Candidates first get a learner's licence; one month after the issue of this permit, you can appear for a driving test in front of the Regional Transport Office (RTO) authority for a permanent licence. RTO form 4 deals with the Driving Licence application for a particular state. Applicants should also be at least 18 years of age for driving a motorcycle or four-wheeler with gear. Usually, the licence is valid for 20 years, or till the candidate attains 50 years (whichever is earlier).
How to fill RTO Form 4 Application?
RTO form 4 has three parts- the first part deals with the address of the Licensing Authority, type of vehicle, and affixing a passport size photograph. The second part contains information about personal details, and the third part is the certificate of the test of competence to drive. Here is the step by step process of filling up the application.
Mention the address of the RTO, affix your photograph, and select the vehicle type for which you need a licence at the beginning of the application.
In point 1, 2, and 3, input your name, father's name and permanent address. Married female candidates can also write the names of their husbands. Applicants, currently, residing at a temporary address will have to mention it at point 4 along with the period of stay at the present location (point 5).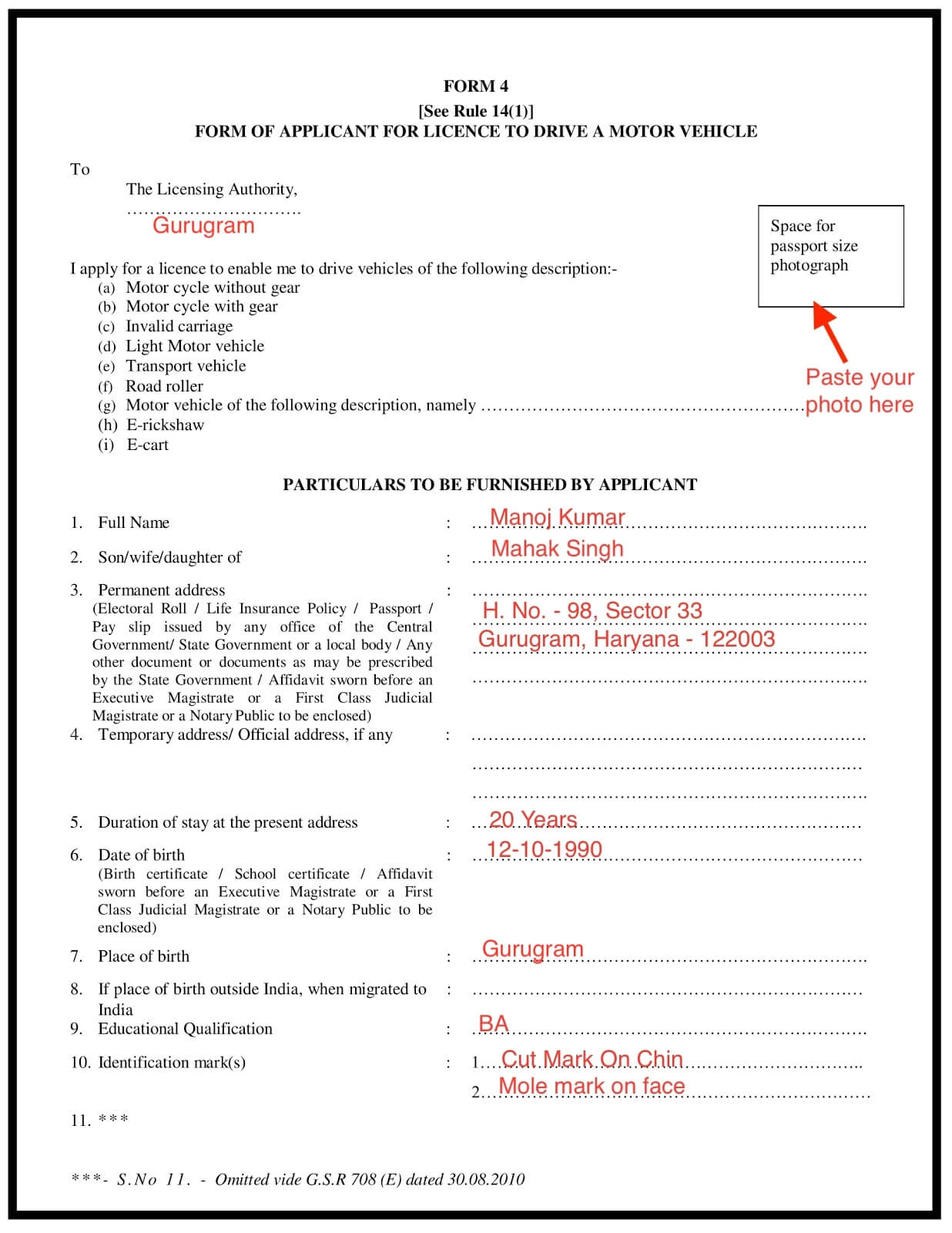 Fill in your date and place of birth in point 6 and 7 respectively. Candidates born outside India need to mention the year of migration to the country in point 8.
Input your educational qualification in point 9. Mention whether you are a matriculate, high-school pass out, graduate, or post-graduate.
In point 10, write about two visible identification marks. It is better to include birthmarks, moles, or stitch marks on the face, arms, or legs.
Point 12 remains concerned about the blood grouping and Rh factor (positive or negative). Mention your group (A, B, AB or O) after conducting a laboratory test.
If you previously owned a driving licence, mention that in point 13. Enter details about the date of every conviction which was ordered on any permits on your name at number 14.
If you got previously disqualified from obtaining a driving licence, then mention about it on point 15. Write briefly about the reason for disqualification in the second line of this point.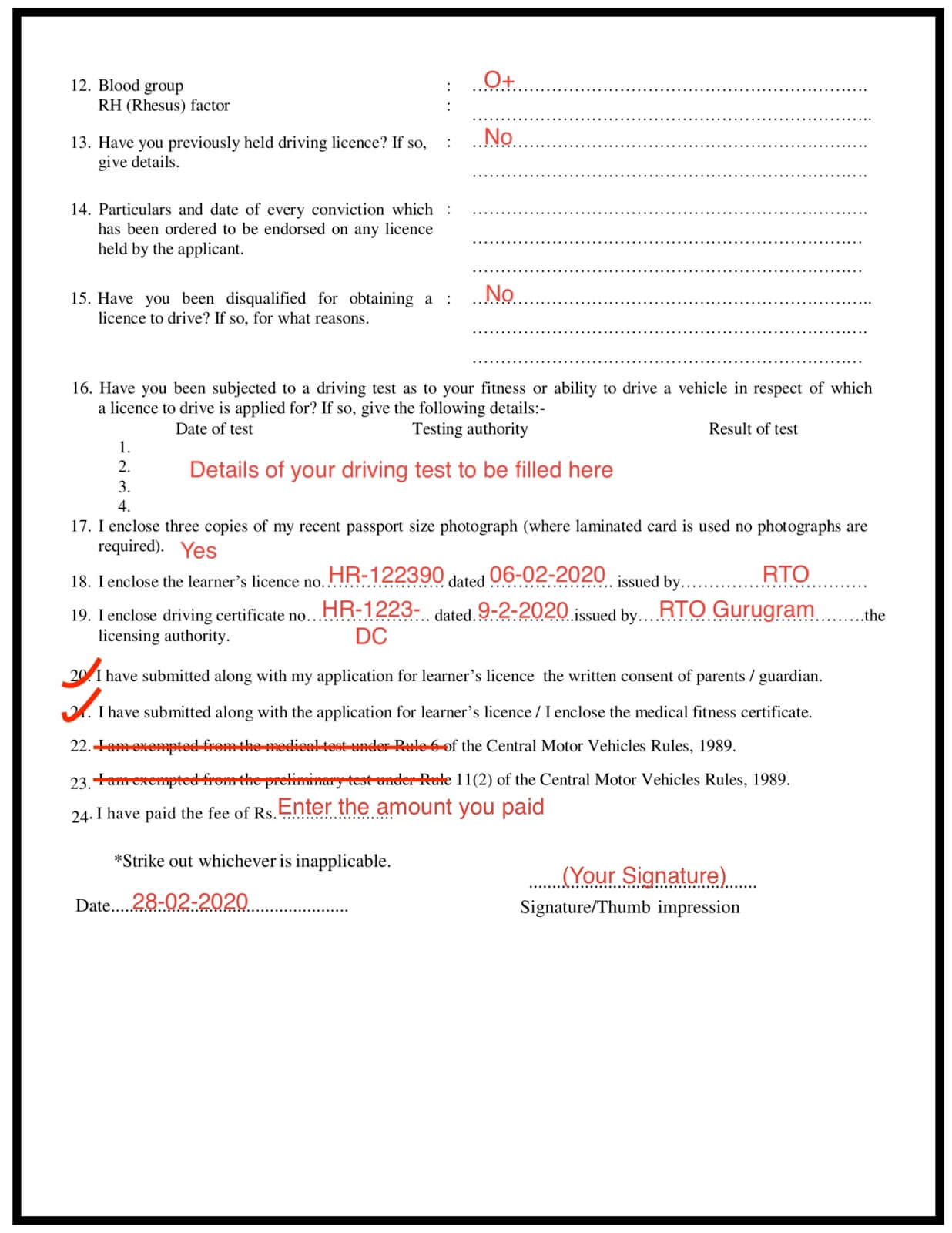 If you have already performed a driving test where your physical fitness was examined, write about the same in point 16. Do not forget to mention the date, names of testing authorities, and the result in this space.
In point 17, enter whether you have submitted three copies of the latest passport size photographs. However, if you have applied for a laminated licence, then you do not require to furnish photos.
Include details (date and name of the issuing authority) about your learner's licence in point 18.
If you hold a 'Driving Certificate,' then enter the name and address of the driving school in point 19.
In point 20, mention whether you have submitted a written consent from your parent or guardian at the time of submission of learner's licence application. Similarly, in number 21, enter if you have provided the medical fitness certificate while issuing the learner's licence.
In point 22 and 23, write whether you got exempted from the medical test and preliminary examination according to Rule 6 and Rule 11(2) of the Central Motor Vehicles Rules, 1989.
Write about the fees paid for applying for the driving licence in point 24. At the end of the personal details affix your signature or thumb impression and date of form submission.
The RTO official will sign the certificate of the test of competence to drive mentioning the date and the registration number of the vehicle used for the exam. You must also affix your signature at this space.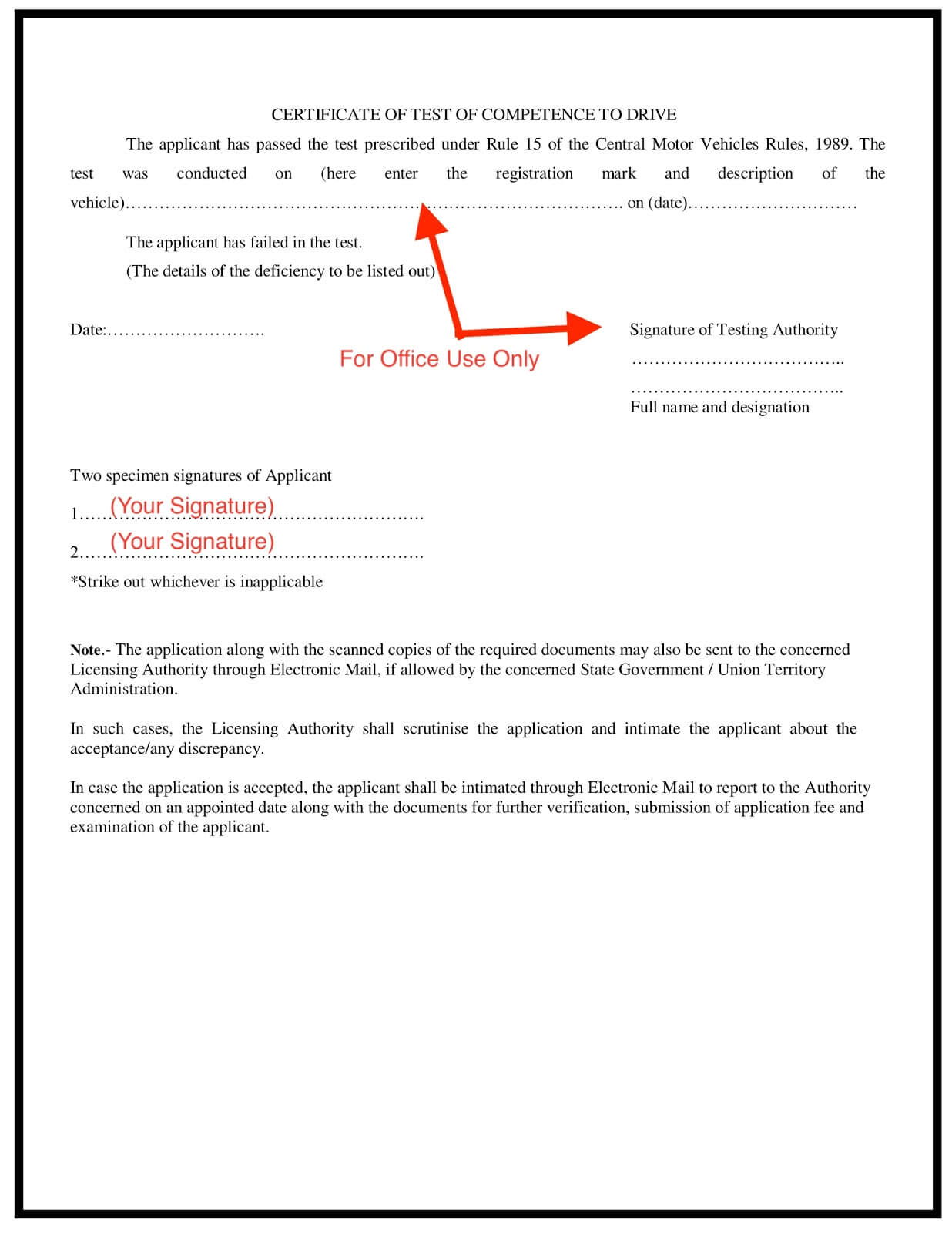 Documents to be Attached
Three recent passport size photographs
Identity and address proof
Proof of place and date of birth
Proof of educational qualification (Board or University Certificates).
Download Application for Licence to Drive a Motor Vehicle
Download Now
Key Factors to be considered while filling Form 4
The voter ID card, passport, pay slip for state government and central government officials, or life insurance policy can act as identity and address proof of the applicant.
Birth certificate, school certificate, or affidavit sworn before an Executive Magistrate or a First Class Judicial Magistrate serves as proof of birth details.
Affix a passport size photograph with a dark background for ease of identification.
After the acceptance of the application, the candidate gets intimated through Electronic Mail. You must report to the RTO at the designated time for further verification of details and driving test.
Conclusion
Finally, it would be right to say that RTO form 4 is one of the most crucial applications in the 'Driving Licence' category. Successful submission of this document helps in the verification of personal details and appearance for the driving test. Without holding a valid licence, you cannot legally drive a two-wheeler or four-wheeler on Indian roads.