RTO Form 20: Application for Registration of a Motor Vehicle
Regional Transport Office plays a crucial role in keeping track of all vehicles plying on Indian roads. They made it mandatory for all automobiles to get registered and display their registration number at the front and rear end under the Motor Vehicles Act, 1988. Auto owners use RTO form 20 for issuing a permanent registration number. When you purchase a brand new automobile, the dealer assigns a temporary registration number. Within one month of getting this number, you must apply for a permanent registration number by filling up RTO form 20. It proves your ownership, and also aids to complete formalities during the resale of the vehicle.
How to Fill RTO Form 20 Application?
RTO form 20 has four parts. The first part is standard for all types of vehicles; the second part is necessary only for transport vehicles, the third part includes a certificate for inspection, while the fourth part is only for official endorsement. Here is a step by step process of filling up RTO form 20.
In point 1, 2, and 3, mention your name, father's name, and age at the time of filling up the form. If you are currently residing at a temporary or official address, then mention that in point 4 and 5 along with the duration of stay at the present address.
In point 6, enter your permanent account number (PAN). However, this feature is optional; you may keep this space blank if the vehicle cost is below Rs 4 lakh.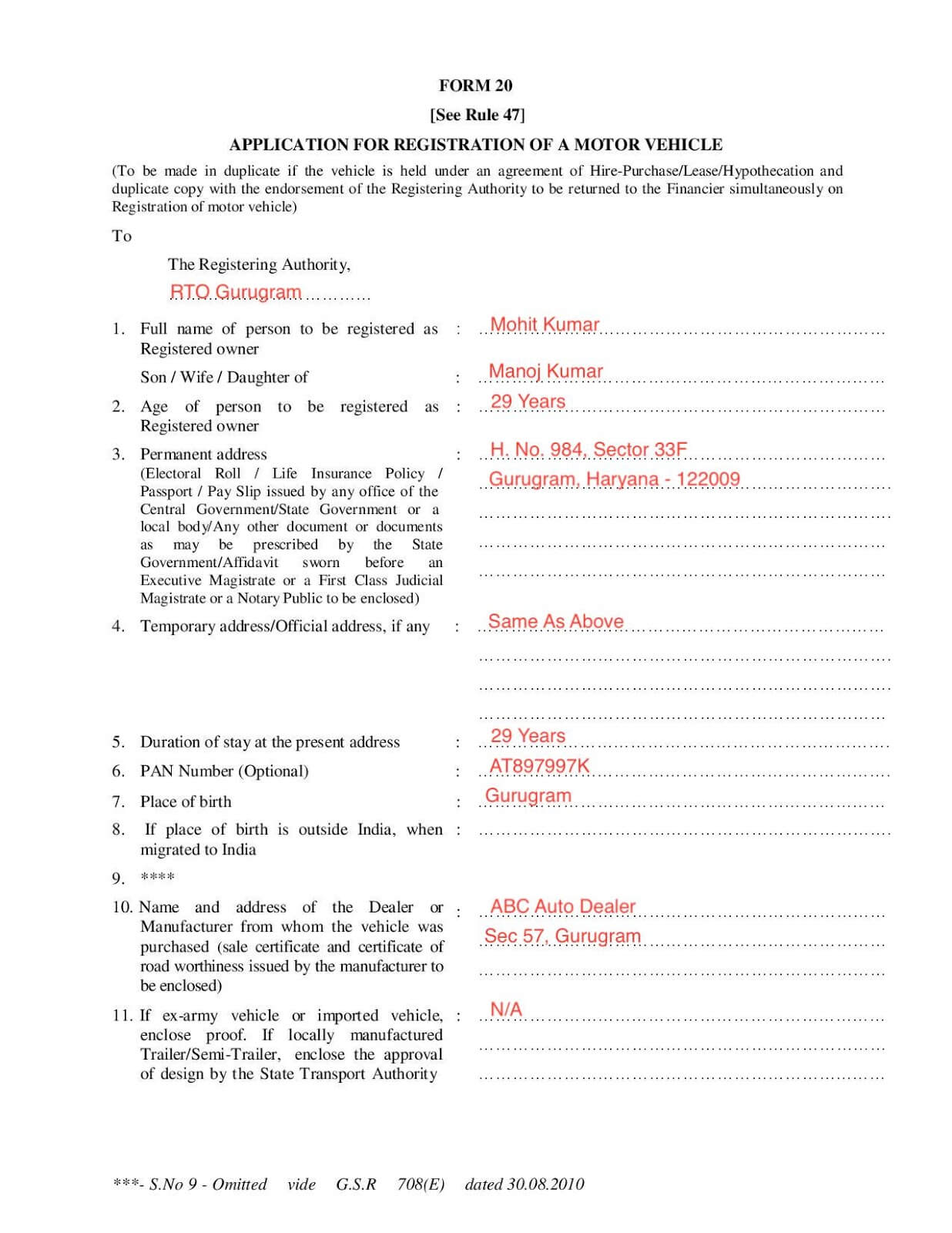 Mention your place of birth and the year of migration top India (if the birth location is outside the country) in point 7 and 8.
Point 10 includes the date and address of the dealer from where you have purchased your automobile. If you have bought an army or an imported vehicle, then enclose the design approval by the State Transport Authority. Do not forget to enter the number and date of approval in point 11.
Write about the class of the vehicle in point 12. Mention whether it is a new, ex-army, imported or an E-rickshaw in point 13.
From point 14 to 26, you need to write about the technical details of the automobile, like the type of body, vehicle type, brand name, date of manufacture, number of cylinders, horsepower, cubic capacity, wheelbase, chassis number, engine number, seating capacity, fuel, and unladen weight. If you have confusion with any of these terms, then feel free to contact the dealer or an automobile expert.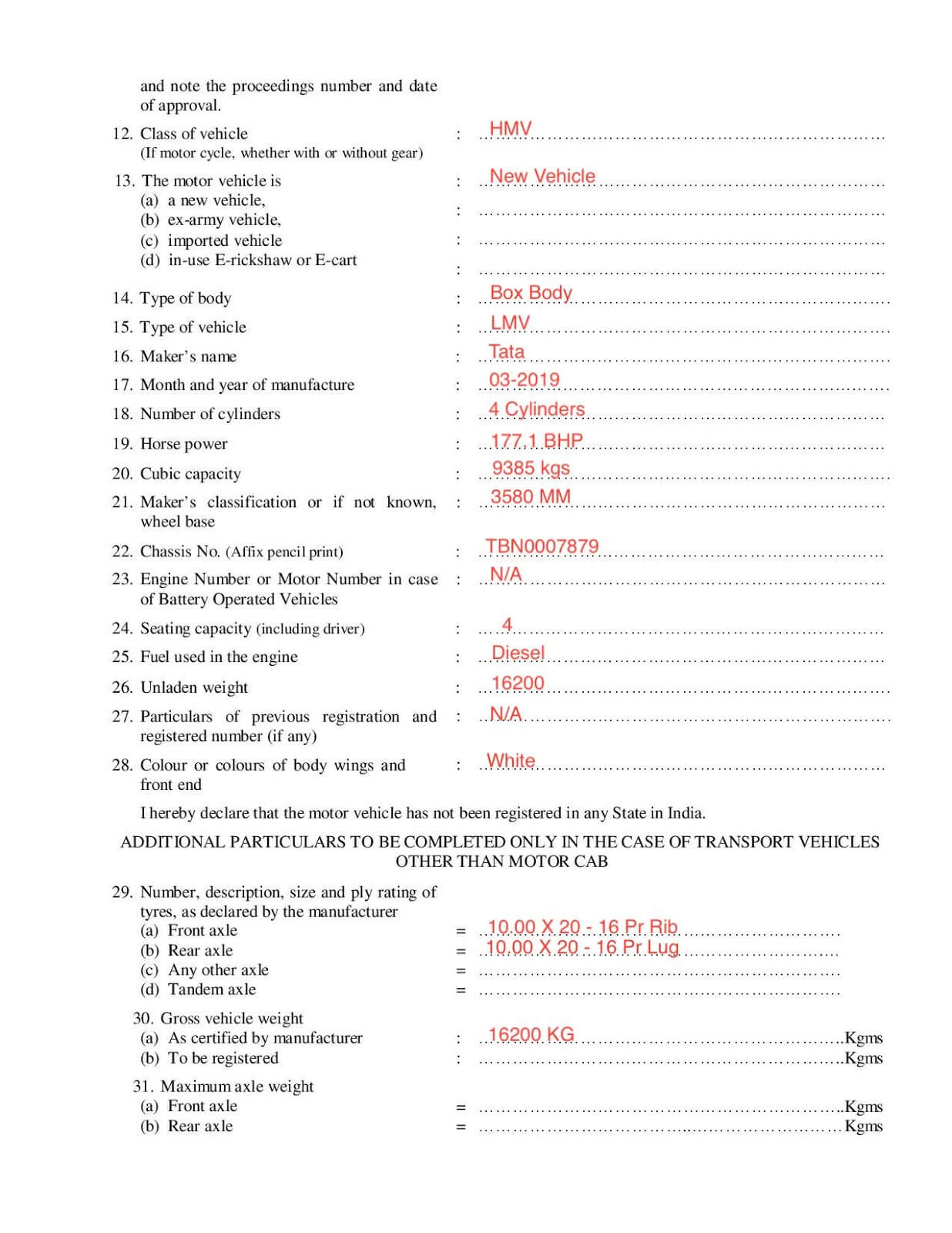 If you have purchased a pre-owned vehicle, then write the previous registration number in point 27. In the next space, write about the body colour, and the paint scheme on the wings and front end.
If you are registering a transport vehicle like a truck or tempo, then you need to furnish additional technical information from point 29 to 32. These details include specification about tyres, gross vehicle weight, axle weight, dimensions of rigid frame motor vehicles. If you want to register an additional semi-trailer, then mention its body type, unladen weight, description of tyres and maximum axle weight for each component in points 33 to 36.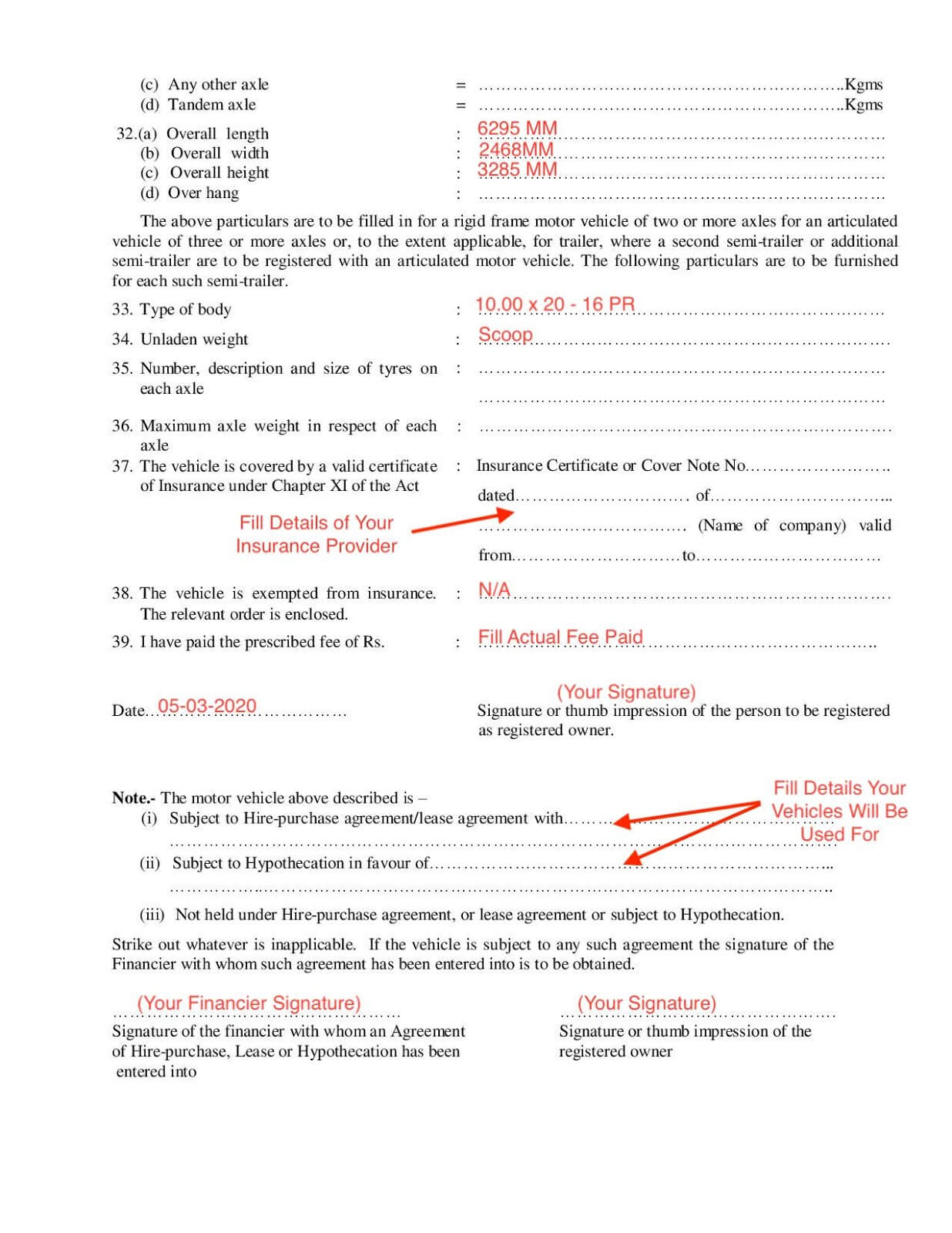 Point 37 to 38 includes details about the insurance policy. Mention the tenure, name of the company, and exemption (if any) in these spaces.
In point 39, enter the fees you have paid for the application of registration of the vehicle. Affix your signature and date below this point. You may also insert your thumb impression at this space.
After the signature, you must declare your vehicle type (if it is under a hire-purchase agreement, or subject to hypothecation, or under lease agreement). The Financer should also endorse the form along with your signature under this declaration.
There is a certificate of inspection and office endorsement after the description of the vehicle type. The Inspecting Authority affix his signature and date along with the registration number in this space.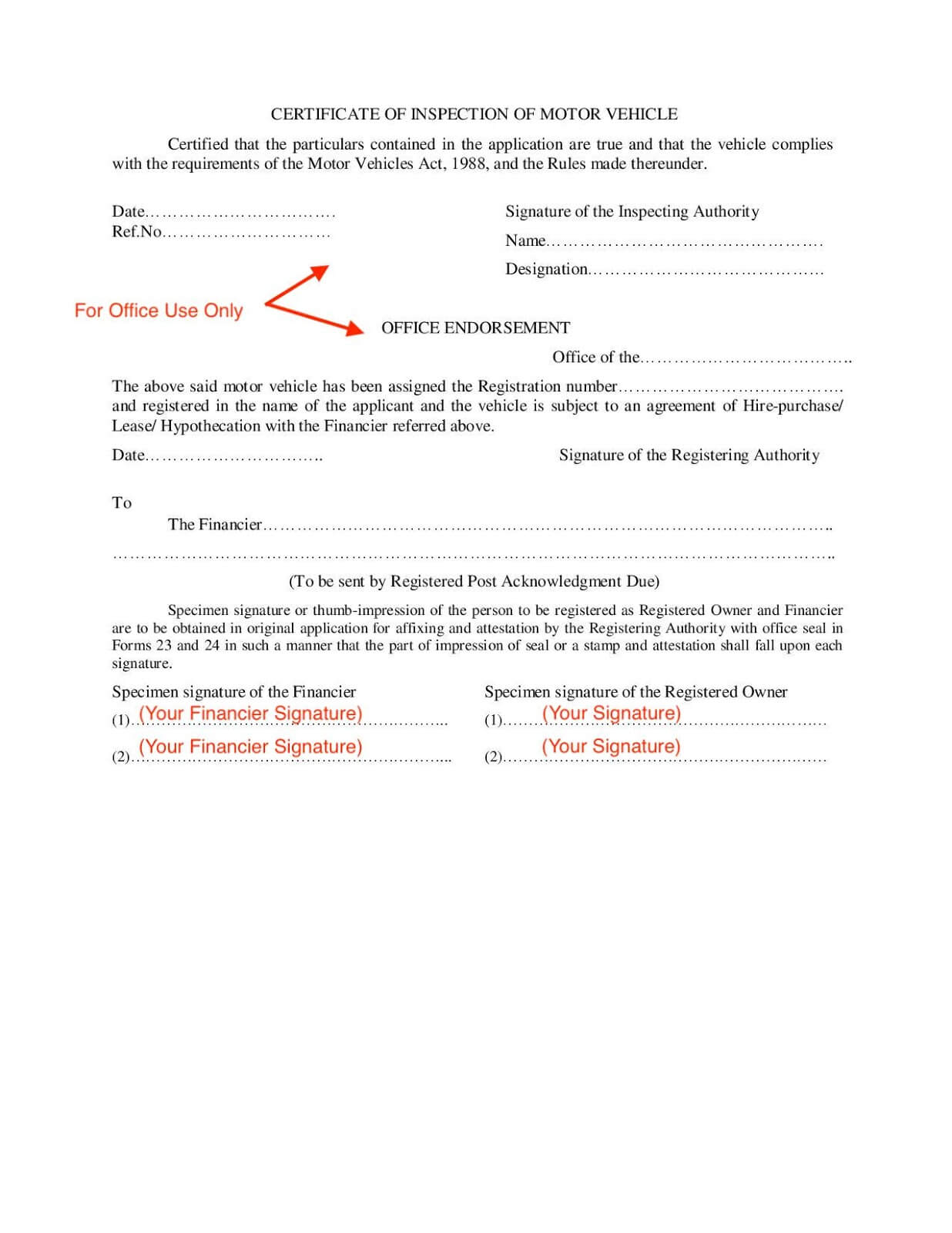 Finally, at the concluding part of form 20, both the Financer and the Registered Owner enter their specimen signature. The Registering Authority sends this acknowledgement to the Financer through registered post.
Documents to be Attached
Here is a list of documents which you need to enclose along with the form:
Identity and address proof
Proof of place of birth (Citizenship proof)
PAN card (if the vehicle cost exceed Rs 4 lakh)
Sale certificate and certificate of roadworthiness
Customs' Clearance Certificate (if you import the automobile)
Temporary Registration assigned by the dealer
Insurance Certificate
Invoice from the dealer
Download Application for the Renewal of the Driving Licence
Download Now
Key Factors to be considered while filling Form 20
Registration of transport vehicles requires details about gross vehicle weight, axle weight, dimensions and particular about tyres.
Registration certificate of automobiles remains valid for 15 years. However, for transport vehicles, the registration is active until the tenure of the Fitness Certificate.
After successful verification, the auto owner gets a registration number and a receipt, which he can use until the arrival of the valid registration card.
If the vehicle is under a hire-purchase agreement, or subject to hypothecation, or under a lease agreement, then you require a duplicate copy of Form 20 with the endorsement of the Registering Authority.
Conclusion
Finally, we can say that RTO form 20 is essential for issuing a permanent registration number of vehicles. The Motor Vehicles Act, 1988, states that it is illegal to drive unregistered automobiles on Indian roads. Violators are liable to pay a hefty penalty for their actions.