RTO Form 1: Application-cum-Declaration as to Physical Fitness
Form 1 is the first application on the RTO list in the driving licence category. It is known as 'Application-Cum-Declaration as to Physical Fitness' as it checks whether the applicant has any physical disability, which can pose a threat to his driving skills. It also scrutinises whether you have any severe medical conditions like epilepsy and eyesight related disorder.
How to fill RTO Form 1 Application
RTO Form 1 has two parts. In the first part of the application, you need to input your personal details; whereas, in the final section, the applicant submits a declaration of his or her medical history. Detailed below is the step-by-step process of filling up the form.
In point 1 and 2, you need to input your full name and your father's name (as mentioned in the identity proof submitted along with the application). Married women can also input their husband's name in this category.
In point 3, the applicant furnishes the permanent address, as mentioned in the address proof. If you are not residing in your permanent address at the time of form submission, then you should insert your temporary address in point number 4.
Point 5 of the application contains the date of birth of the applicant. Insert your present age below the birth details.
In the 6th point, mention two identification marks. It can be a birthmark or any visible scratch or stitch mark on the exposed portion of the body like face, arms, or legs.
In the declaration, the applicant furnishes medical details verifying that he or she is completely capable of driving without posing any threat to others life.
Point 'a' mentions whether you have a history of epilepsy. It is a medical condition affecting the central nervous system, and patients often experience seizures and unusual sensations. If you have never experienced such symptoms, mark 'no'.
The second point illustrates your eyesight. It includes whether you can distinguish number-plates of other vehicles in broad daylight from a distance of 25 metres and if you have lost the sight of any eye. Marking 'yes' in this category signifies you have good eyesight.
Point 'c' verifies whether you have any motor disability or any muscular issues. Mark 'no' if you do not have any motor or muscular problems.
Point 'd' and 'e' refers to the ability to distinguish pigmentary colours and not having colour blindness. Mark 'no' if you can differentiate red and green colour, and do not have any history of colour blindness.
Point 'f' refers to your auditory skills. If you can drive a light motor vehicle without any hearing aids, mark 'yes'.
The last point consists of a declaration that you do not have any other disease or disability, which can cause harm to co-passengers or the general public on roads. Mark 'yes' if you have sound health.
Documents to be attached
Detailed below is the list of documents required while filling up Form 1
Identity proof
Address proof (if you are residing at a temporary address, furnish proof of both permanent and temporary address)
Birth certificate (or any other document verifying your date of birth)
Sample Filled RTO Form 1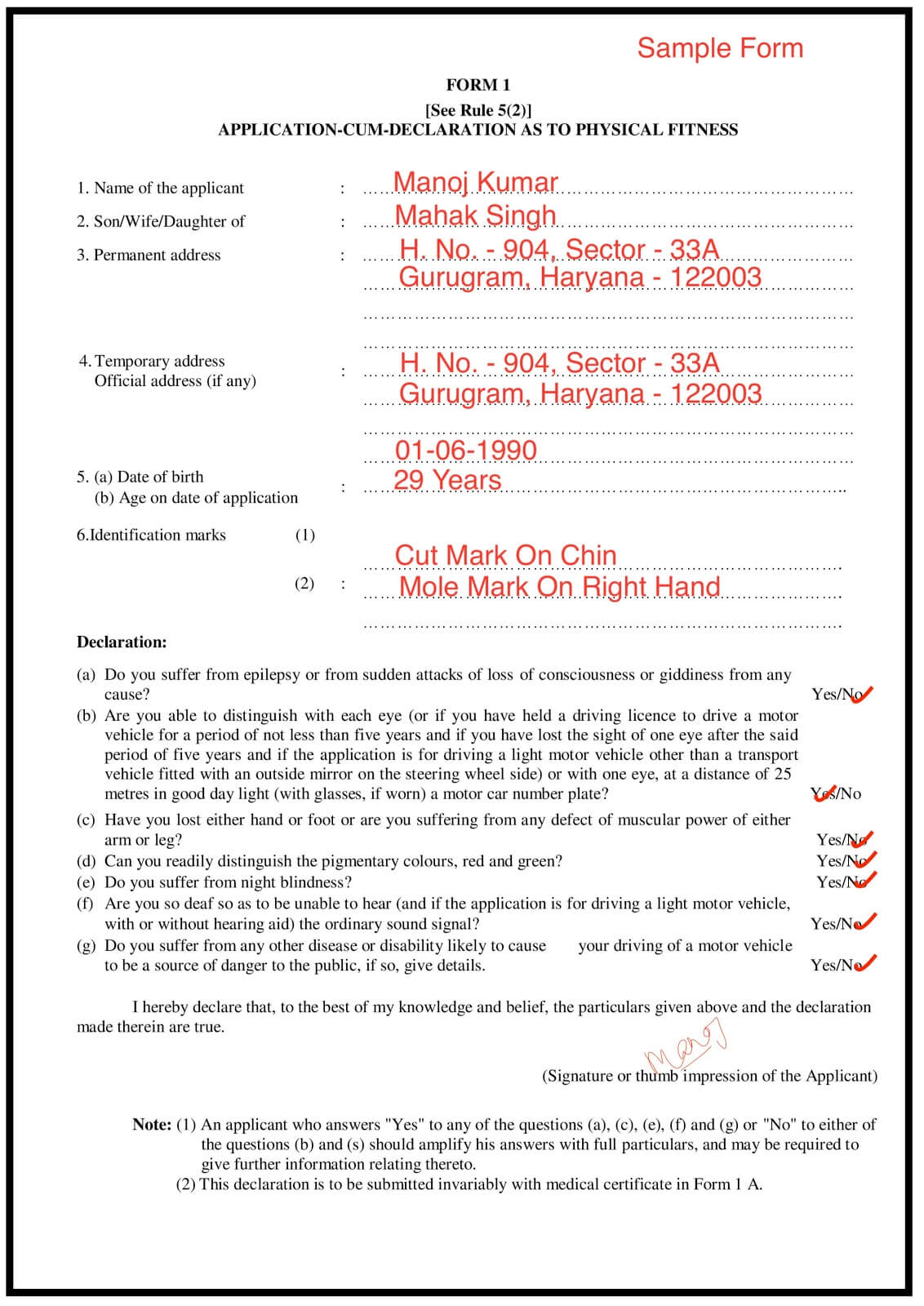 Download Application for Physical Fitness for a Motor Vehicle Driving License in PDF format:
Download Now
Key Factors to be considered while filling Form 1
If you have marked 'yes' in the declaration (a), (c), (e), (f) and (g), then you need to furnish amplified details justifying your ability to get qualified as a driver. Under no circumstances, your driving should be a danger to other commuters.
Similarly, marking 'no' in point (b) and (d) also requires a clarification that you are safe for managing the wheels
You also need to submit the medical certificate in form 1A, along with the form 1 for obtaining the driving license.
Conclusion
Finally, we can say that form 1 is crucial for applying for a driving licence. It signifies that you have a sound physical and mental state of mind, and it is safe to give you the control of the wheels.